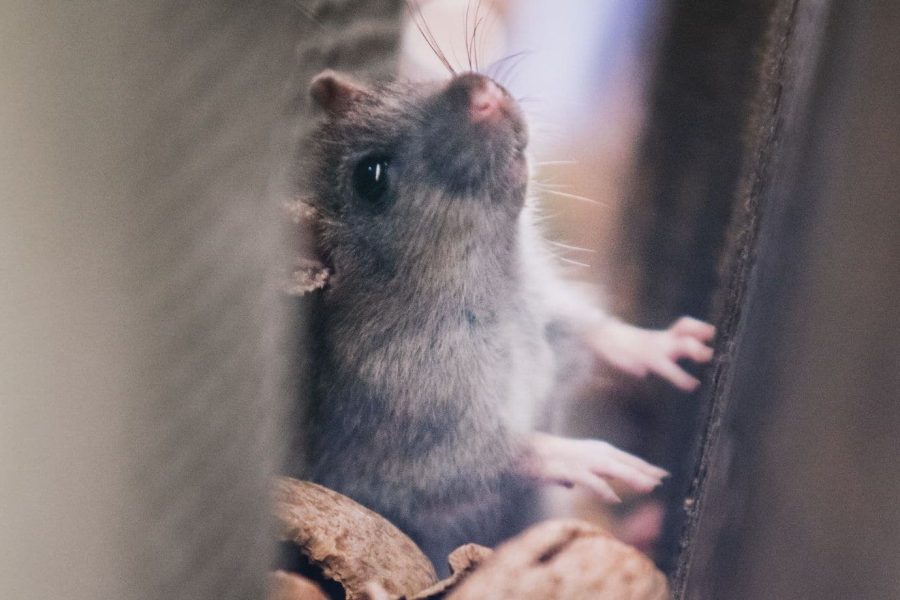 Mysteriously strange noises in the walls at night are the last thing any homeowner wants to face. Sure—creepy unidentified sounds in the dead of night make for a bone-chilling horror film. However, it's certainly not something you want to hear while trying to catch some much-needed sleep.
Before you conclude it's impossible to discover what the noise may be coming from, allow the experts at James River Pest Solutions to help you out! Never hesitate to reach out to our friendly staff. But, in the meantime, read the following information to get a head start at solving this unthinkable mystery.
Continue on to explore what could be making these strange noises and what you can do about it.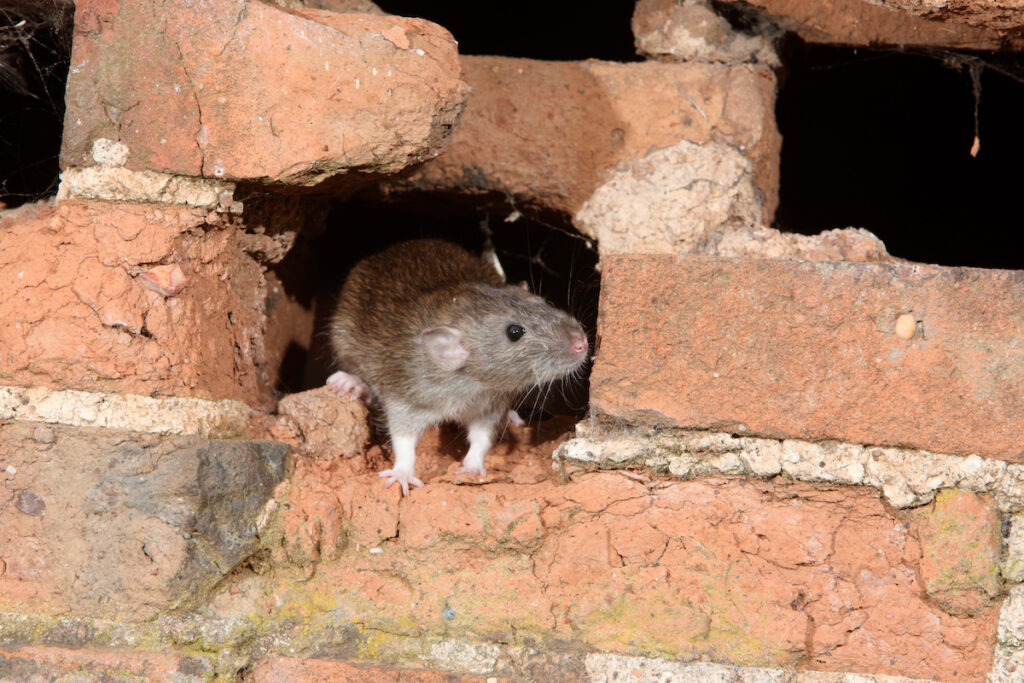 Are You Hearing Strange Noises in the Walls at Night?
When people hear odd sounds from the structure of their home, some jump right to the most common culprits, mice or rats. But it's not always that simple—sometimes the ominous pitter-patter is a lesser accused pest, like squirrels, raccoons, or even bats.
The first step to figuring out what is going on in the walls of your home is to identify what kind of noises you hear. Try to correctly name the bizarre noises that have kept you up at night. Below are some words that may help you hone in on what you're hearing:
Scratching
Squeaking
Popping
Clanking
Thudding
Remember that identifying the sounds is only one part of the complicated equation. You need to observe many other things to determine where the noises are coming from. It's also vital to recognize that the sounds could NOT be made by a wild animal. These peculiar noises may indicate a structural or plumbing issue.
So, if something is wrong with one of the many systems making your home function as it should, why would you only hear it at night? There's an easy explanation—At night, your house is quiet. Finally, there is silence that allows you to listen to the things you wouldn't catch during the daytime.
With little noise from the roads, sleeping children, and an absence of TV or other background noise, the sounds your home makes are better heard. Furthermore, what you are hearing may not be problematic. You may be hearing the ordinary sounds your house makes. They just seem much louder because of the nighttime quietness.
Could There be Animals in Your Walls or Attic?
Now, you have three possible scenarios: either you hear critters in the walls, an issue with your home's systems, or typical sounds these systems produce. Before you sigh with relief and conclude the unusual sounds are from the house and not wild animals, let's dive deeper into what it may sound like if you have pests in the walls.
Most likely, if the strange noise in the walls at night comes from a living creature, it will be one of the following:
Raccoons
Squirrels
Birds
Bats
Below, we will briefly describe how you can differentiate between the sounds of each of the possible pests responsible for the odd sounds.
Strange Noises from Raccoons
In most cases, raccoons are the easiest to identify. They are the largest of all the potential culprits, which makes them stand out among the others. Use the following 5 characteristics to help determine whether you have raccoons in the walls.
1 | They More Often Occupy the Attic.
Raccoons may get into the walls, but their size often limits them to the attic. Therefore, if the noises are strictly coming from the walls, you might be able to rule out a raccoon infestation.
2 | Their Sounds are Relatively Slow and Loud.
Raccoons move at a slower pace than other possible critters. And their weight gives them away, too. These animals are most often identified because of the relatively slow and loud thudding or banging sounds people hear from the ceiling.
3 | Racoons are Primarily Active at Night.
These fascinating animals are nocturnal. Therefore, homeowners are more likely to hear their activity in the evening, at night, and in the earliest hours of the morning.
4 | The Height of Raccoon Intrusions is in Late Winter and Early Spring.
Female raccoons give birth around spring. So, when the temperatures drop, they will seek shelter and warmth. Because of the decline of their natural habitat, they often have no choice but to nest in our homes.
5 | The Entry Point for Raccoons is Usually Highly Visible.
Again, because of the size of this home-invading critter, where they have entered your home to hide away in the attic is usually apparent. Look for damaged vents and siding or holes in the home's structure.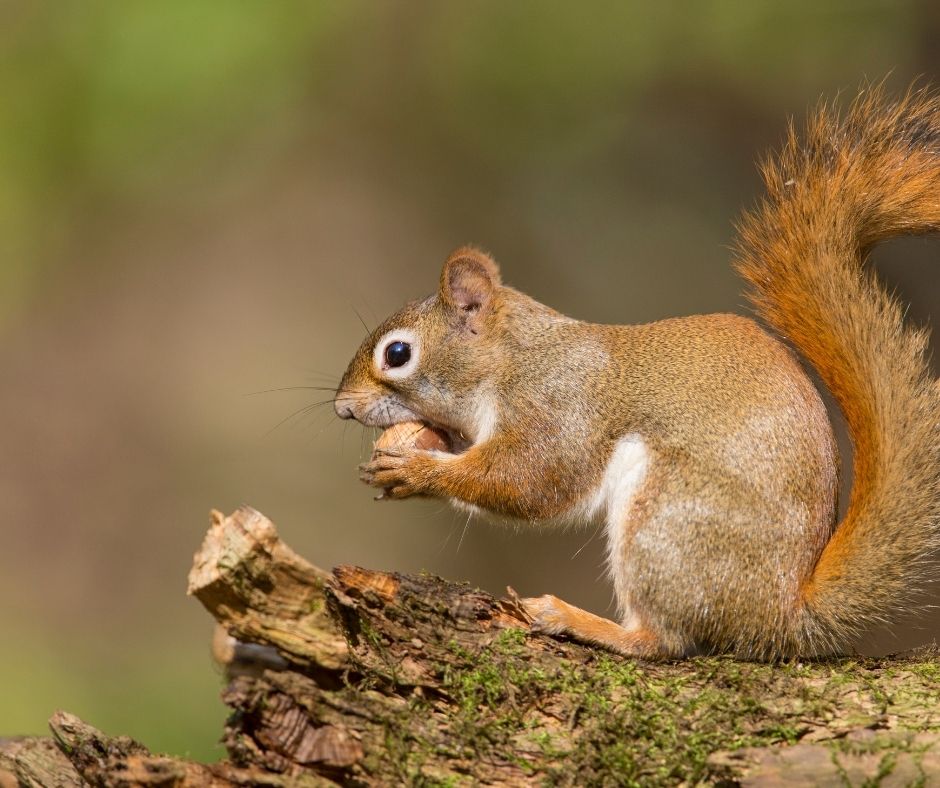 Squirrels making Strange Noises in the Walls
Squirrels in the walls or attic are also one of the easier animals to identify. If the following 4 clues are familiar, you may have squirrels hiding in your home.
1 | An Abundance of Squirrels Around the Home may Indicate an Infestation.
If you notice lots of squirrels around your home during the day, there is a chance they are spending the night in the attic or walls. Sticking to a strict routine, these busy little creatures will continuously go back and forth between their nest and the place where they forage for food.
However, seeing an abundance of squirrels doesn't always mean they're living in the walls. Use the other points to aid in your conclusion.
2 | You'll hear the Most Activity at Dawn and Dusk.
Squirrels may be active throughout the day. However, you will notice the most strange noises at sunup and sundown.
3 | Chewing is What You Will Hear the Most.
Like all rodents, squirrels have large upper teeth that never stop growing. That means they must continuously chew to file them down. So, they will gnaw on anything available, including materials and structural elements of your attic or walls. You will hear erratic scratching or chewing sounds in the morning or evening, indicating you may have squirrels in the house.
4 | Their Entry Points are Often Easily Recognized.
Like raccoons, squirrels tend to leave behind an obvious sign that they are coming in and out of your home. So, be sure to inspect the house's exterior.
Birds
There's not a whole lot to figuring out the strange sounds in the walls are from birds. Here's what you may observe:
Scratching noises
Chirping
Long periods of silence
Bats
Depending on where you live, there is also a chance that the odd noise in the walls at night is from bats. However, you often see them far more than you will hear them.
Luckily, there are some obvious signs showing you are dealing with bats in the house. Below are 3 things that may lead you to believe the unusual sounds are coming from roosting bats.
1 | The Bats may Fall and Try to Climb Back up the Insides of the Walls.
In most cases, bats inside your home will not make many loud noises. They typically nest in the higher parts of the attic, making any possible sound they make much harder to hear than other animal infestations. There's one exception to this rule.
It is possible you will hear bats scurrying up or down the walls when they have fallen into them from where they were roosting. If the noise persists, there's a chance the bat has gotten stuck in the small space, making the situation a lot more critical to act on as soon as possible. Otherwise, you might smell a deceased bat a few days later.
2 | You may See Bats More than Hear them.
As mentioned, it is far more common to see bats or their evidence rather than hear them. So, if there are many strange noises in the walls at night, bats are likely not a concern.
3 | Bats Usually Leave Behind Obvious Evidence.
Here is where you take another walk outside your house to check for anything left behind by roosting bats. Look for entry and exit points, which can be extremely small. Also, be on the search for bat guano or waste.
Mice and Rats
Because of their size and lifestyle, mice and rats are usually the answer to what is making the strange noise in the walls at night. These critters commonly get into homes, especially those near nature or farm fields. The 3 trends will help you identify rats or mice in the walls.
1 | These Small Rodents are Most Active in the Evening and at Night.
If the unsettling sounds coming from the walls occurs mainly in the evening, there may be rats or mice inside. Sometimes, you will hear them during the day if the home is particularly quiet.
2 | Rats and Mice will Make Quiet Scratching Sounds.
Believe it or not, mice are actually pretty silent. They are so small and light on their feet that you rarely hear their activity. However, if you are hearing faint scurrying or scratching noises in the walls or attic, there is a chance you have an infestation of mice or rats—rats being the more likely scenario.
3 | The Noise is Often Isolated to One Location.
Those who have experienced rodent infestations note that the odd sounds were mainly from the same limited area in the walls or ceiling. Try strongly tapping on the spot in question to further confirm your assumption of rats or mice in the walls. If you have mice, they typically stop at the sound and run away after a few minutes.
Strange Noises- When Should You Call the Professionals?
So, you think you have pests in the walls? Now what? The best thing to do is call your local and trusted pest control specialists. When pests are generally out of sight and living in the hard-to-reach places of your home, it is challenging for the average homeowner to successfully remove them on their own.
I'd love to say there's no harm in attempting some DIY methods first, but that's not entirely true. Sometimes, the longer the animal occupies your walls or attic, the more issues you will need to take care of. Stay on the safe side by addressing the issue most effectively and efficiently and scheduling an inspection with the local experts.
Know that you can trust James River Pest Solutions with any pest removal task. Our talented team is experienced with all kinds of common home-invading critters, and we know just how to get rid of them for good! Contact our friendly staff today to put an end to the strange noise keeping you up at night.