Differentiating Carpenter Ants
With over 12,000 species of ants globally, it can be challenging to determine which type of ant you have and assess the damage they could potentially create. And that is precisely why the good folks at James River Pest Solutions has added Pest ID to our list of valuable services. Educating our clients on the particular bugs they find in the home will help them decide the urgency for extermination.
Join James River Pest Solutions on a journey to set the carpenter ants apart from other species of ants.
Appearance
Ants are ants, right? Well, yes and no. This variety of ant is one of the larger species of ants. And it is crucial to know which one you are dealing with to know what must be done about the pests. Carpenter ants have the usual 6 legs, 2 antennae, and 3 segmented bodies. Here is where the differences come into play.
Color: Black, with some having red as well.
Size: ¼ – 5/8ths inch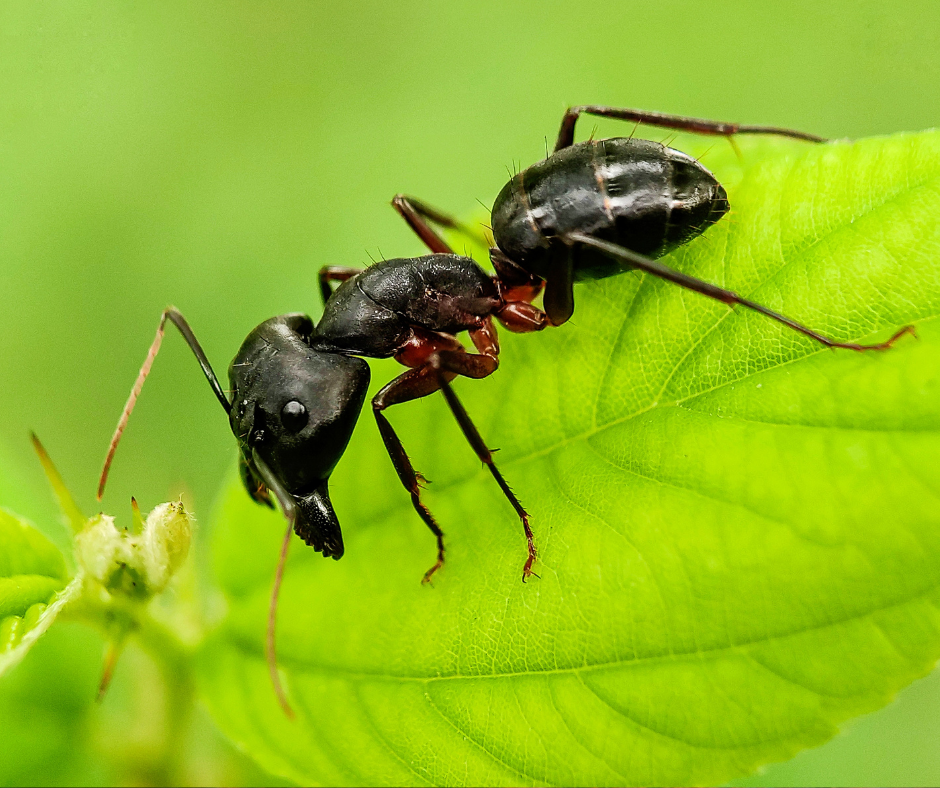 Habitat
Carpenter ants require moisture to survive. When they get into a home, they may enter through windows, doors, cracks in the house, or through the home's pipes. Eliminating moisture and standing water is one way you can encourage carpenter ants to nest elsewhere.
In nature, they will find a tree stump, rotting fence post, firewood, stones, and more to build nests in or under. The main colony is typically located outdoors, with satellite colonies that may get into your home.
The Diet
These ants primarily feed on insect honeydew, fruits, and their juices, other insects, and more. Inside your home, they will adapt to eating sweet treats, eggs, meats, cakes, and even grease. They forage for food during the day and can travel quite a distance to acquire that tasty morsel.
Damage Carpenter Ants Create
Ants can be many things when you and your family are entertaining outdoors or if they enter your home. They can be frustrating, annoying, painful, and that is to start. But if there is moist or damaged wood nearby, you'll most likely find carpenter ants. And that can be a real danger for the structure of your home. You see, carpenter ants will hollow out whatever wood they choose to. In fact, that is where they get their name. But these ants do not eat the wood. They chew it to form their tunnels and create nests.
In addition, carpenter ants bite when defending their colony. And the formic acid in that bite will indeed sting.
A single ant colony can contain more than 50,000 individuals. So proper identification is key to protecting your home and family. Here are some signs of a carpenter ant infestation:
Piles of wood shavings resembling sawdust can usually be found underneath wooden areas like door jams, baseboards, and windowsills.
Rustling noises that seem to come from inside walls or hollow doors.
Winged ants coming out of ceilings, walls, or other crevices.
Discarded wings of swarmer carpenter ants found near windowsills, baseboards, and vents.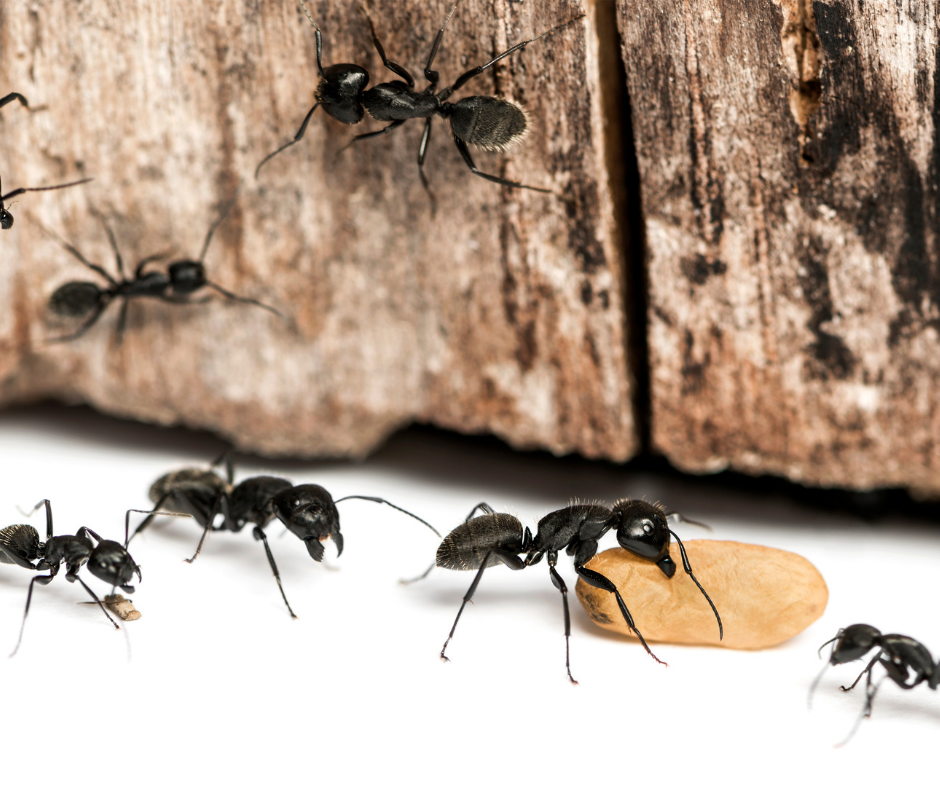 Preventing Carpenter Ants in Your Home
If you suspect you have a carpenter ant invasion going on inside your home, make no mistake. It is essential to call a professional exterminator to deal with the situation.
But to prevent them from thinking your home is a nice place to nest, take care of the outside of your home in the following ways.
Keep your gutters free of build-up and debris and stay pointing away from the home's foundation.
Repair leaky spigots and fixtures to keep excess water away.
Clear rubbish, debris, and overgrowth from the lawn. And if there are fallen trees or rotting leaves, be sure to rake them up to keep the ants from extending their nests.
Trim the bushes and trees away from home so they do not touch the walls or foundation.
Don't bring firewood in for the colder months unless you have inspected it for ant activity.
Seal the cracks of your home's doors and windows, including weather stripping.
Getting Rid of Carpenter Ants
Keeping ants out of the home in the first place is the best idea. Your local pest solutions expert can assist with carpenter ant exclusion and elimination outside the home. However, if they happen to invade the house, a professional should be called out right away. Baits and poisons can be toxic and often just temporary solutions, causing the ants to divert their path.
James River Pest Solutions has the answer for pest control in your home. Ants are eradicated with our years of experience and quality products. You can trust your home to our pest control solutions.
If you happen to notice carpenter ants in a particular area of the home, call your local pest solutions company immediately
before it gets any worse.
Contact James River Pest Solutions for all your carpenter ant and pest control needs in Virginia.