‍Wood cockroaches are not the most common type of roach, but it's possible to encounter them. They are slightly smaller than the American cockroach but just as persistent. One noticeable difference is in their diet. In fact, this is precisely why they're called wood roaches. It doesn't matter whether your home is brand new or old, renovated or not; these creatures will find a way to get in and make themselves at home.
What is a Wood Cockroach?
A wood cockroach is just as it sounds: a cockroach that primarily eats wood and other organic matter like leaves. Just like other roaches, it's difficult to kill. This is because it can find a way into new structures.
Wood roaches prefer to live in dry environments, so they can usually be found in the attic, crawl spaces or in wooden structural beams. Wood roaches are considered pests because they are attracted to warm, humid areas where they can breed quickly and spread disease to humans. These insects are also nocturnal. You are most likely to see them at night when they come out of hiding to feed.
Habitat
As previously mentioned, wood roaches can be found almost anywhere there's wood. This includes both indoor and outdoor areas. They prefer to lurk in dark, dry places, such as the inside of walls, attics, crawl spaces, and wooden fences.
Though they are most commonly found in wooden structures, wood roaches are also known to live in cardboard boxes. You may also find them around wood-like products such as book bindings and paper bags. Roaches are tough and thrive in almost any climate. They are not picky about what type of wood they live in, so they can be found in both old and new structures. This is the main reason why they are such a common problem.
Appearance
Wood roaches are small insects with dark brown or black bodies. They can grow to be up to 3/4 to 1 1/4 of an inch long and have one pair of wings. Wood roaches are nocturnal, so they are most likely to be seen at night when they come out of hiding to feed.
These pests are attracted to light, so you may see them in the kitchen or in another room with a light on. Wood roaches leave behind droppings that look like black pepper. The droppings are not just black, but they can sometimes have a red tint to them, too. They may also resemble coffee grounds.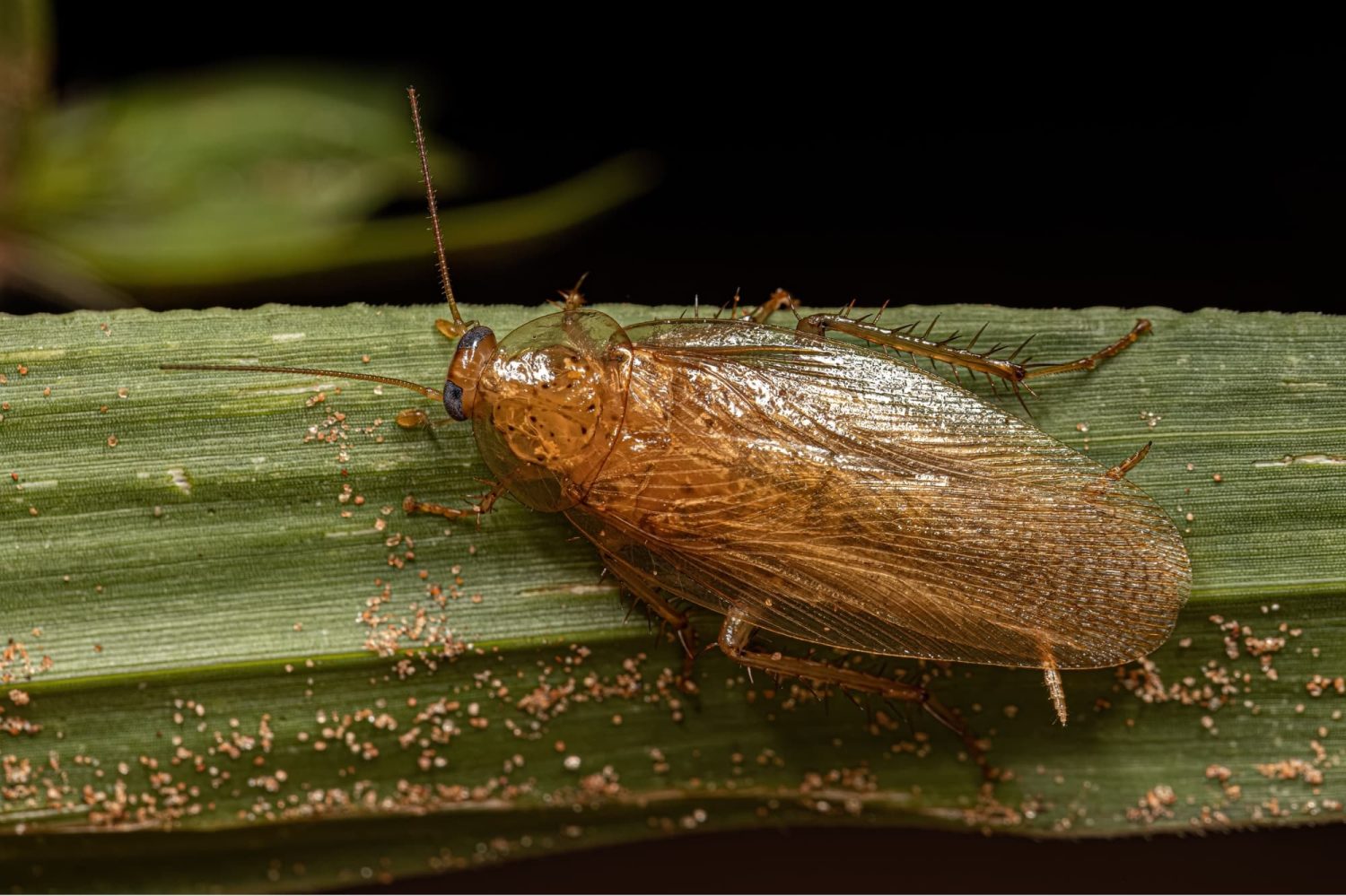 Behavior
Wood roaches are nocturnal and will hide in dark, warm areas during the day. They tend to prefer wooden structures, such as the inside of wooden walls and beams. Roaches cannot live inside electrical wiring. If you see these insects in your circuit box, they have most likely come down from the wall above.
Meanwhile, roaches shy away from people whenever possible. But interestingly, they find light attractive. They will try to get inside your home through small cracks around doors, windows, and vents. Wood roaches are not picky eaters and will eat almost anything, including glue on book bindings and paper bags.
Signs of a Wood Cockroach Infestation
If you see small, black, or dark-colored bugs running around in your home, you may have a wood roach infestation. It's important to remember that these are not just a nuisance – they are pests that can cause serious health issues.
You may also see droppings that look like black pepper in areas where roaches have been. There may be more droppings than you'd expect since roaches tend to defecate often. If you have a large infestation, you may see them marching across the walls and ceilings.
How to Get Rid of Wood Cockroaches
Since wood roaches can be extremely difficult to get rid of, it's important to take preventative measures to ensure they don't make themselves at home. This can be done by sealing cracks and gaps in your home that may let the pests inside.
If you do have a wood roach infestation and have tried to get rid of the pests without success, it may be time to call in a professional. If you try to kill the roaches yourself, you need to be aware that they can be difficult to kill and are good at hiding. You can also clean up food and crumbs that may be attracting the roaches.
Get Rid of Wood Roaches with James River Pest Solutions
Wood roaches are a common nuisance in many households. These pests can be extremely difficult to get rid of, so it's important to prevent them from entering your home in the first place.
To do this, you must clean up any clutter, keep your home free of food crumbs and make sure your home is clean. If you do find yourself dealing with a wood roach infestation, remember that they can be difficult to kill. You may need to call in a professional if the roaches persist. Please contact us at James Rivers Pest Solutions for help.