About the Pavement Ant
Ever walked along a sidewalk to stop and watch a trail of ants making their way to who knows where? They are busy and fascinating creatures if you stop to take the time. And most likely, they are going back under the sidewalk because they are, in fact, Pavement ants. Correctly named, these dark brown to black ants make their homes in cracks, crevices, and under the pavement.
While Pavement ants are no threat to people and they are not a public health risk, they can do other damage. You can count on your local James River Pest Solutions for the elimination of Pavement ants.
Here are some of the more specific facts about the Pavement ant on our informational Pest ID page.
Appearance
Pavement ants are relatively harmless and tiny. Under magnification, they can be identified among other small ants by the fine longitudinal ridges on their head and thorax. The reproductive members of the colony have functional wings and are larger than the worker ants.
Pavement ants have a stinger. However, it is rarely used for defense. Instead, it aids in trailing pheromones.
Physical Traits of the Pavement Ant:
Dark brown to black bodies, with lighter-colored limbs

Six legs

1/8 inch long

12 segmented antennae
Behavior
Pavement Ants live in colonies with over 10,000 workers and one or multiple queens. When the settlement is in danger from moisture or temperature changes, the workers will relocate the queens, eggs, and larvae to keep them safe.
June and July are typically mating seasons, and you may see them a bit more active. During this time, you will also spot the winged swarmer ants, the reproductive members of the colony.
In the winter, Pavement ants are far less active due to cold temperatures. However, this is when they are more likely to invade homes in search of food, water, shelter, and warmth.
Pavement ants have unique relationships with other insects, like aphids, springtails, mites, silverfish, and lycaenid butterfly larvae. They have a mutualistic partnership with these insects. They will allow them to live inside their colonies as the guests provide food and the ants provide protection.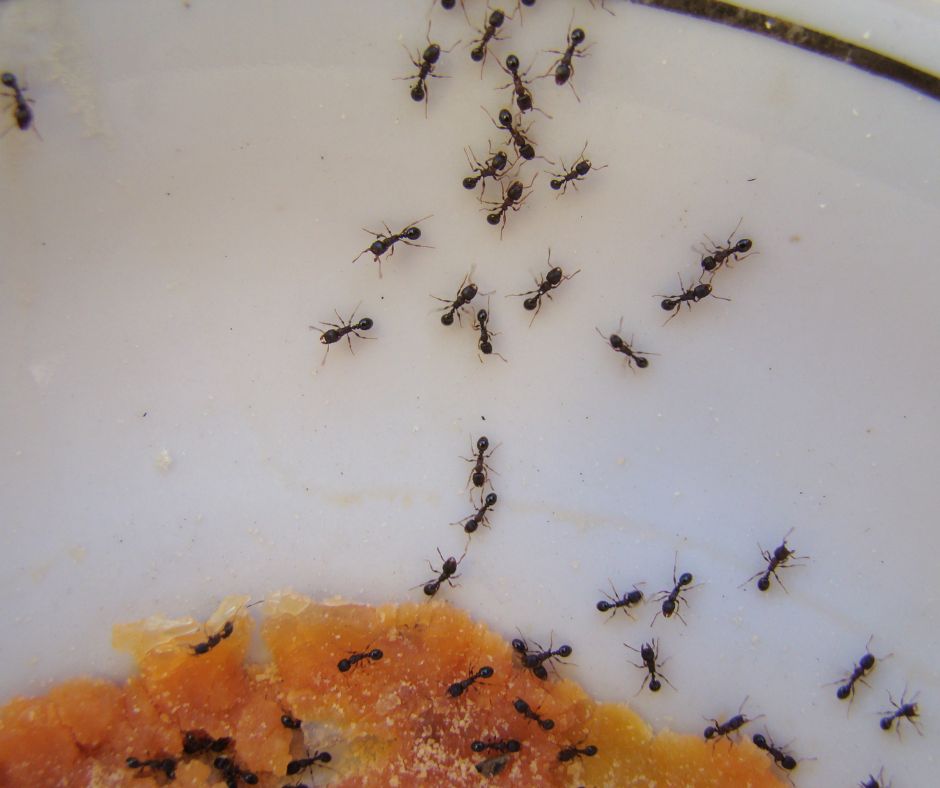 Diet
According to PestWorld, "These black ants will eat almost anything. Pavement ants have been known to consume insects, seeds, honeydew, honey, bread, meats, nuts, and cheese. They forage in trails for distances of up to 30 feet and are known to climb masonry walls that enter into occupied areas."
Pavement ants are efficient foragers because they use pheromones to lead other colony members to an excellent food source. Using teamwork, the ants process an abundant food source and transport it back to the entire colony.
Habitat
Watching Pavement ants in their natural habitat, you would notice how beneficial their existence is. They help clean the environment by eating dead insects, dead animals, and organic waste. What's more, they help create fertile soil when they aerate the ground.
In nature, these ants typically nest under rocks, logs, in mulch, pavement, along curbs, and in cracks. With nowhere to go under, they will build a tiny dirt mound on the pavement.
If they enter a building, Pavement ants will be in the masonry walls. But they also nest in other walls, insulation, and under the floors. They invade walls when they are in search of food sources.
Pavement ant nests are difficult to locate. So, the best way to manage an infestation is to contact a pest control professional.
Do You Have a Pavement Ant Infestation?
Pavement ants do not typically bite. Instead, they may sting if provoked, yet they would rather go about their business. So, they are generally not an issue unless you get an infestation. Then they can be rather challenging to control. Often, their nests are so far down in the soil that homeowners cannot get to the depths of the colony.
The best thing you can do if you have a particular problem with Pavement ants is to call your local pest elimination company to come out and treat the colony and home.
Preventing Pavement Ants
Pavement ants are especially attracted to moisture and left behind food. To prevent Pavement ants from infesting your home, you can do a few simple things.
Keep mulch around the home to two inches max.

Eliminate standing water around the home.

Keep tree branches and bushes cut away from the house.

Ensure there are no cracks or tiny openings around your house.

Store firewood and building materials away from your home because they like to build nests in stacks of wood.

Inside the house, clean up spills and crumbs on countertops and kitchen floors right away. You do not want to give ants a reason to stay longer than they planned.

Schedule seasonal services by your local pest control company to catch infestations as early as possible.
Get Rid of Pesky Pavement Ants with the Pros
James River Pest Solutions offers home and commercial pest control solutions and our team is made of state-certified inspectors and exterminators. Of course,  we provide Pavement ant extermination services to commercial and residential clients.
Reach out to us today to rid your home or business of these pesky Pavement ants.