You see them in old movies, cartoons, and perhaps as an occasional uninvited guest at home. This pest is distinguishable from other cockroaches by its larger size and lighter coloration. Here is what you need to know about this insect, including how to identify it along with signs of an infestation.
What is an American Cockroach?
The American cockroach is a large, reddish-brown species of cockroach that is native to the United States. This insect is also known as the "palmetto bug" or "water bug." This is one of the largest species of cockroach in the United States.
Meanwhile, it is closely related to the German cockroach, the Oriental cockroach, and the Australian species.
Habitat
This insect is a particularly common pest in tropical and subtropical climates, but you can find them throughout the US.
These roaches prefer warm and humid environments, but they can be found almost anywhere there is food and shelter. American cockroaches especially love to live in warm and moist areas like basements and sewers. They can be found in restaurants, grocery stores, and even homes.
Keep an eye out for this roach, especially during warm times of the year. Summer is the time of year when roaches are most likely to be found inside homes.
Appearance
The American cockroach can be distinguished from other commonly seen cockroaches by its larger size and lighter coloration. An adult American roach can grow up to about 1-1.5″ long. American cockroaches have reddish-brown bodies with light brown or yellowish markings on the back. The area behind the head and underneath the wings is darker.
An adult American roach has long, reddish-brown wings that extend past the tip of the abdomen.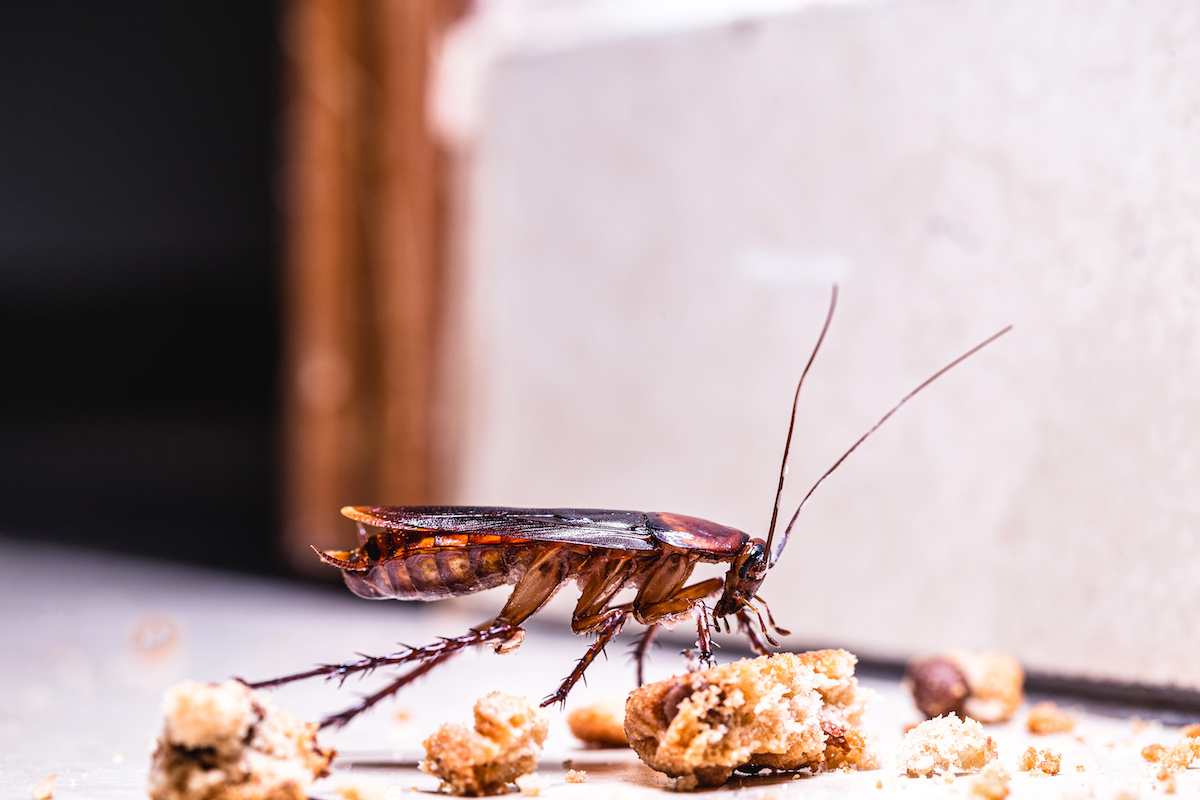 Behavior
Adult American cockroaches feed on a wide variety of food sources, including feces, decaying plant matter, and pet food. These insects are not shy to take food from people's plates if they have been left out for too long. They can cause problems for people who do not properly store food.
The adult American cockroach may also carry bacteria that can cause respiratory infections. This includes bronchitis or pneumonia.
Signs of American Cockroach Infestation
If you suspect you have an infestation, look for these signs:
Droppings and frass – Cockroaches leave behind small droppings at frequent intervals. These small black or brown pellets are often mistaken for rodent droppings. You may also notice dark spots of frass (a substance excreted by roaches) on kitchen cabinets, countertops, and other surfaces.
American cockroach egg cases – American cockroaches lay egg cases in warm, humid areas. These egg cases are tan or brown and look like a pill or capsule.
Smell – You may notice a distinct, musty smell. This smell can be noticeable even when no other signs of infestation are visible. Meanwhile, the scent will get worse as the infestation progresses.
Get Rid of American Cockroaches with James River Pest Solutions
If you find that you have an American cockroach infestation in your home, it is important to act quickly and efficiently. This is because they can carry and transmit a variety of diseases, and they can also cause extensive damage to property.
Call James River Pest Solutions at (804) 993-4877 today to learn more about how we can help you get rid of American cockroaches and prevent them from coming back.