Getting to Know Bed Bugs
That may sound like the last thing you want to do. But the only way to rid your home of bed bugs is to learn all about them, how they work, live, and thrive. Put a stop to bed bug infestations today, With James River Pest Solutions. Bed bugs are an actual health threat and are one of the most annoying pests out there. And they are tiny and hard to find, making them even more of a nuisance.
In this Pest ID, the exterminators at James River Pest Solutions will share how to identify and control bed bugs.
Bed Bug Appearance:
Knowing what you are looking for is the beginning of the total extermination of these bugs in your bed and around your home.
Size: 3/16 – ¼ inch long
Color: Brown when they have not fed, red after feeding
Shape: Flat oval-shaped body with tiny antennae and a typical three segmented body
Additionally, they take on a different appearance as they grow. Here are the three stages and a description of each.
Adult Bed bugs are approximately the size of an apple seed, and they are brown with a flat, oval body. When they have fed, the bugs will look rounder and more swollen with a more reddish-brown color. And they are smelly. Yes, that's right, smelly. The glands on the underside of the bed bug produce an unmistakable musty odor.
Young Bed bugs are much more minor and translucent in color. If they have not recently fed, they are almost impossible to locate.
Bed bug eggs are the size of a pinhead and are pearl-white in color. If they are over five days old, you may be able to see the eyespot.
Where You Might Find Bed Bugs
Bed bugs come in through other people, luggage, clothing, and used furniture. They live in groups, hiding in places with easy access to human blood. Usually, you will find them hiding in mattresses, box springs, bed frames, and headboards. If a room becomes heavily infested, you may also see them around electrical outlets, around door frames, in drawer joints, in couch seams, and the curtains' folds.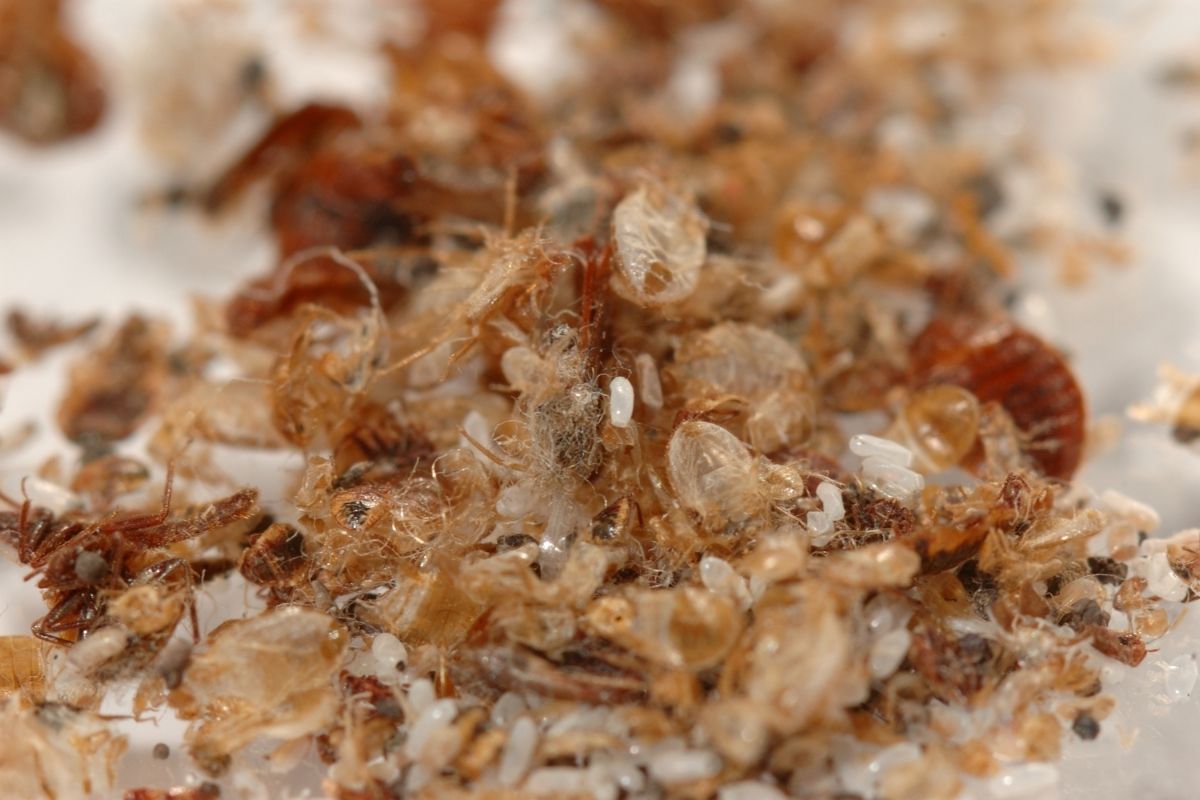 Signs of Bed Bug Infestation
Since bed bugs are so tiny, you may have difficulty seeing them until it is too late. Here are some of the signs you may want to have an exterminator investigate.
If you wake up itchy where you were not itchy before, you might have bed bugs.
Do you find bloodstains on your sheets or pillowcase? You might have bed bugs.
If you see dark or rusty spots on your sheets and mattress, you might have bed bugs.
Unfortunately, if you locate bed bug fecal spots, eggshells, or shed skins, you might have bed bugs.
Should you smell an offensive, musty odor in your bedroom and cannot locate the cause, you might have bed bugs.
The most imperative thing to do is call a professional to remove bed bugs as soon as you know they are there.
Removing Bed Bugs
Your trusted exterminators will use chemicals to remove bed bugs, so be sure to listen to all precautions and follow instructions to entirely eliminate the pests.
According to the Environmental Protection Agency, the most common chemicals used are Pyrethrins and Pyrethroids. However, your exterminator may try any number of the following combinations.
Foggers
Desiccants such as Diatomaceous earth and Boric acid.
Biochemicals like Neem oil.
Pyrroles to disrupt the resistance.
And insect growth regulators.
You do not have to be concerned with all those technical terms when James River Pest Solutions is called in to remove bed bugs from your home.
Ultimately, the best way to control the chance of getting the bugs in the first place is to get on a pest control plan with your local exterminator. The James River Pest Solutions professionals will identify the bugs and help you remove bed bugs quickly.
If you notice any of the signs we have mentioned here today, have JamesRiver come out to investigate. Then be sure to get on an extermination protection plan. It is truly the best way to receive the attention and care you and your family need when dealing with bugs of any sort.
Furthermore, if you notice the signs of bed bugs or an infestation you cannot identify, call James River right away!