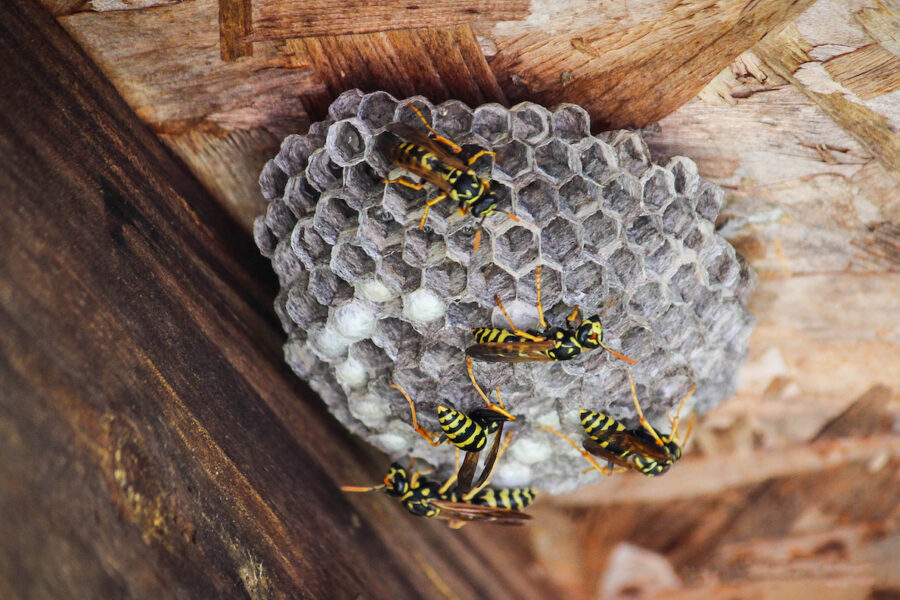 Wasps and hornets, with their buzzing presence and painful stings, can quickly turn your outdoor activities into a nightmare. These stinging insects are not only a nuisance but can also pose serious risks to you, your family, and your pets.
Understanding the signs of a wasp or hornet infestation and knowing how to act swiftly is essential for effective removal and ensuring your safety.
In this article, we will explore the signs of a wasp or hornet infestation, the potential dangers they present, the steps to take for safe and efficient removal, and when it may be best to contact a professional pest control service.
Signs of a Wasp or Hornet Infestation
While the list below covers the list, it is not all-inclusive. Be sure to keep a close eye on any potential signs of a wasp or hornet infestation, and remember, when in doubt, contact a professional.
1. Increased Wasp or Hornet Activity
One of the most apparent signs of an infestation is a noticeable increase in wasp or hornet activity around your property. You may observe a higher number of these insects buzzing around your garden, porch, or outdoor seating areas.
2. Nest Sightings
Wasps and hornets typically build nests in sheltered locations. Keep an eye out for the following types of nests:
Paper Wasps: They construct open, umbrella-shaped nests that hang from eaves, branches, or structures.
Yellow Jackets: These aggressive wasps build nests in wall voids, in the ground, or in other concealed spots.
Hornets: Hornets create large, football-shaped nests often found hanging from trees, shrubs, or other high places.
Locating a nest is a clear indication of an infestation on your property.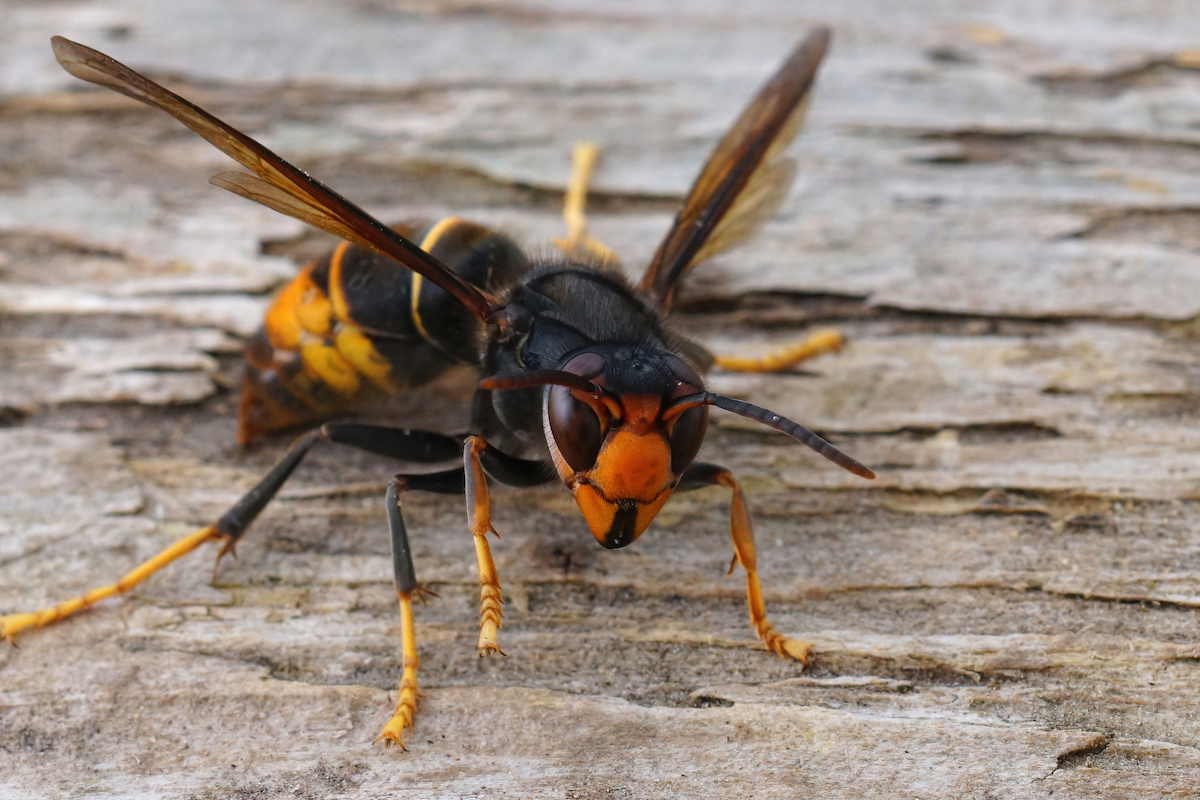 3. Unusual Buzzing or Swarming
If you notice a sudden increase in wasps or hornets swarming in a particular area, it might indicate agitation or defensive behavior due to an active nest nearby.
4. Damage to Property
Wasps and hornets may cause damage to wooden structures, such as fences or decks, as they chew on the wood to build their nests. Look for signs of gnawed or damaged wood.
5. Holes in the Ground
Yellow jackets often create ground nests by burrowing into the soil. If you see small holes in your yard or garden, it could be a sign of a yellow jacket nest below the surface.
6. Stinging Incidents
Frequent or unprovoked stinging incidents in your vicinity, especially if multiple people or pets are affected, might be an indication of a nearby nest. Take precautions in these situations.
The Potential Dangers of Wasp and Hornet Infestations
Wasps and hornets can present a variety of dangers during an infestation. Keep the following in mind to stay safe.
1. Stings and Allergic Reactions
The stings of wasps and hornets can be excruciatingly painful, and for some individuals, they can trigger severe allergic reactions known as anaphylaxis. Anaphylaxis symptoms can include difficulty breathing, swelling, hives, and a drop in blood pressure, making it a medical emergency.
2. Aggressive Behavior
When wasps or hornets feel threatened, they can become highly aggressive, attacking en masse. This can be especially dangerous if you inadvertently disturb their nest.
3. Property Damage
As mentioned earlier, these insects can cause structural damage by chewing wood to build their nests. Over time, this damage can become extensive and costly to repair.
4. Impact on the Ecosystem
Wasps and hornets also play a role in local ecosystems, as they are natural predators of other insects. The removal of large populations can disrupt the balance of local wildlife.
How to Act Fast and Safely Remove Wasp and Hornet Infestations
1. Identify the Pest
Before attempting any removal, accurately identify whether you are dealing with wasps, hornets, or another stinging insect, as different species may require different removal approaches.
2. Assess the Nest Location
Determine the location of the nest and its accessibility. Some nests can be easily reached, while others may be in high or hard-to-reach places, requiring specialized equipment.
3. Safety First
When dealing with wasps and hornets, personal safety should be your top priority. Here are some safety precautions to follow:
Protective Clothing: Wear protective clothing, including a beekeeping suit or thick, long-sleeved clothing, gloves, and a beekeeping veil or hat with a face shield to shield yourself from stings.
Plan an Escape Route: Always have a clear escape route in case the insects become aggressive during the removal process.
Work During Dusk or Dawn: Wasps and hornets are less active during these times, making it safer to approach the nest.
Keep Children and Pets Away: Ensure that children and pets are indoors or at a safe distance during the removal process.
4. Use Safe Removal Methods
There are several methods you can use to remove wasp and hornet nests, depending on the nest's location and your comfort level:
Hiring a Professional: For nests in hard-to-reach places or if you are unsure about the removal process, it's best to hire a licensed pest control professional who has the experience and equipment to safely remove the nest.
Insecticide Spray: Some nests can be treated with an insecticide spray specifically designed for wasp and hornet control. Follow the product's instructions carefully and apply it during the appropriate time of day.
Traps: Commercial wasp and hornet traps can help reduce the population over time, but they may not eliminate the entire nest.
Natural Remedies: Some natural remedies, like soapy water or a mixture of vinegar and water, can be used to deter wasps and hornets. However, these methods may not be as effective as insecticides.
5. Seal Entry Points
After the nest is removed, take steps to seal any potential entry points to prevent future infestations. This may include sealing cracks and gaps in walls, windows, and doors.
6. Regular Inspections
Perform routine inspections of your property to identify and address any new nests or infestations promptly.
Hire a Professional Pest Removal Service for Safety and Effectiveness
Hiring a professional, like James River Pest Solutions, for wasp and hornet removal is often the safest and most effective choice when dealing with these stinging insects. Here are situations in which it's advisable to seek the expertise of a professional pest control service:
Large Nests or Multiple Nests

If you have identified multiple nests on your property or if a single nest is exceptionally large, it's best to call in professionals. Large nests can house thousands of wasps or hornets, and attempting to remove them without proper equipment and training can be extremely dangerous.

Hard-to-Reach Nests

Nests located in high places, inside wall voids, underground, or in any location that is difficult to access pose a significant challenge for homeowners. Professional pest control technicians have the equipment and experience to safely reach and remove nests in these areas.

Allergic Reactions

If anyone in your household is known to be allergic to wasp or hornet stings, it is highly recommended to hire professionals. Anaphylactic reactions can occur swiftly, and professionals are trained to handle such situations and minimize risks.

Lack of Experience

Removing wasp or hornet nests requires specific knowledge and experience. DIY attempts, especially without proper training, can lead to accidents, provoking the insects and resulting in stings.

Unknown Species

Identifying the exact species of wasps or hornets is crucial for choosing the right removal method. Professionals can accurately identify the species and apply the appropriate treatment.

Chemical Handling

If you plan to use insecticide sprays for removal, it's essential to be knowledgeable about the chemicals and their safe application. Professionals are trained in the correct use of pesticides to minimize risks to humans, pets, and the environment.
There's more…
Repeat Infestations

If you've had recurring wasp or hornet infestations on your property, it may be an indication of an underlying problem, such as hidden nests or attractive conditions. Pest control experts can assess the situation comprehensively and implement preventive measures to deter future infestations.

Protecting Pets and Children

If you have young children or pets, their safety should be a top priority. Professionals can ensure that removal methods are carried out in a way that minimizes risks to vulnerable family members.

Legal Requirements

In some areas, there may be legal restrictions or regulations regarding the removal of certain species of stinging insects. Professional pest control companies are aware of these regulations and can ensure compliance.

Peace of Mind

Dealing with stinging insects can be stressful and potentially hazardous. Hiring professionals provides peace of mind, knowing that the infestation will be handled safely and effectively.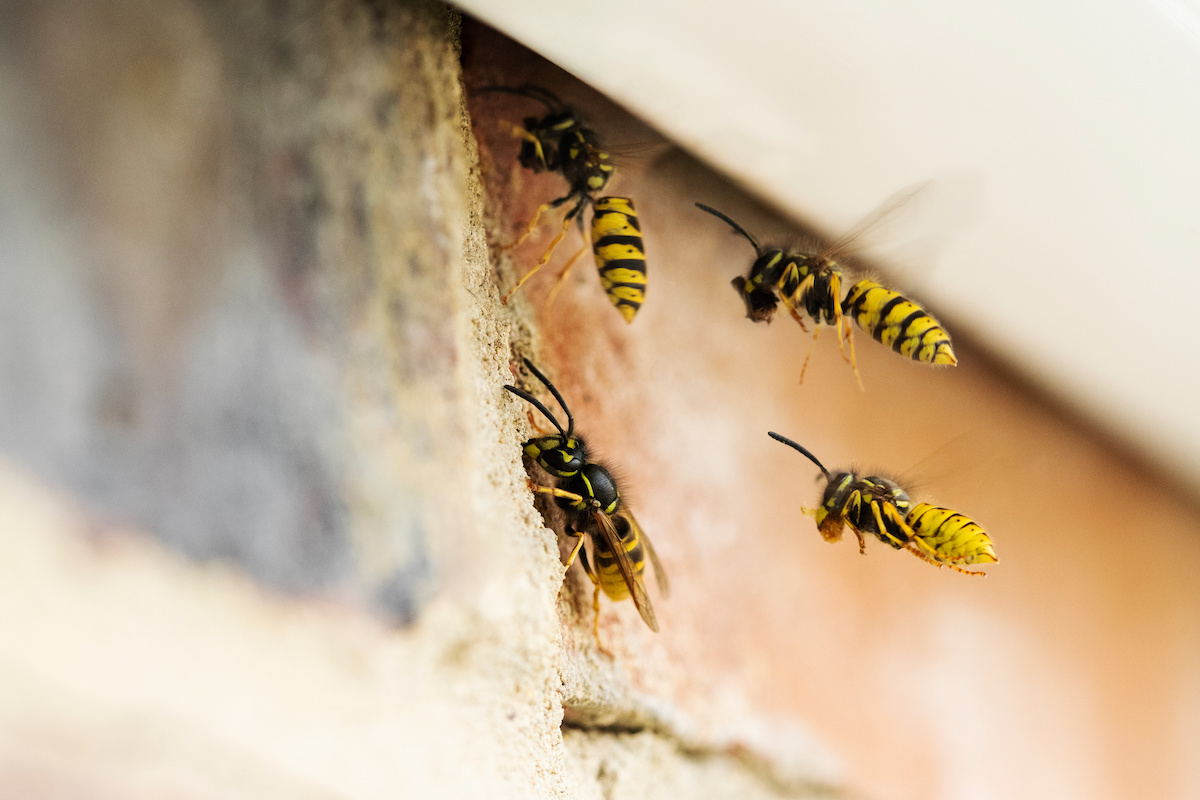 Act Fast on Wasp and Hornet Removal
Wasp and hornet infestations can be a significant concern for your safety, property, and peace of mind. Recognizing the signs of an infestation and knowing how to act swiftly and safely are essential for effective wasp and hornet removal. 
Whether you choose to handle the removal yourself or hire a professional like James River Pest Solutions, prioritizing safety and following best practices will help you reclaim your outdoor spaces from these stinging insects and ensure a pest-free environment for you and your loved ones.

Give our team at James River Pest Solutions a call to schedule a free inspection!